Upon joining the team, I helped steer Victorious to select the Roman numeral 'V' brand concept. Character had developed the idea based on the connection the number five has with the natural and spiritual world, as well as 'V' being the first initial of the company's name "Victorious". I was personally attracted to the relationship with the five animal kingdoms, and the five elements; I found the idea of inner strength and spirt evocative.
Inspired by their approach, I developed a treatment for the video content based on the idea of a 'cave'. I defined the style a part subterranean retreat, and part stylish fitness studio — gritty, sweaty, even a little sexy.
The treatment would also need to address some unique challenges. My client requested that the set design incorporate a video wall, and that I include art direction for a motion graphics program that would work with classes ranging from HIIT to yoga. I wanted the motion graphics to relate to the 'V' concept and not be overly distracting from the workouts so I rooted the graphic direction in natural imagery, and the idea of the elements; air, fire, earth, ether. I wanted the animation style to be rhythmic, and driven sound, to help the workouts.
In order to bring my vision to life, I shortlisted and briefed various set designers and animators working closely with the Victorious production team. We landed on Strange Loop Studios to develop the graphics program and West of West to design and build the stage.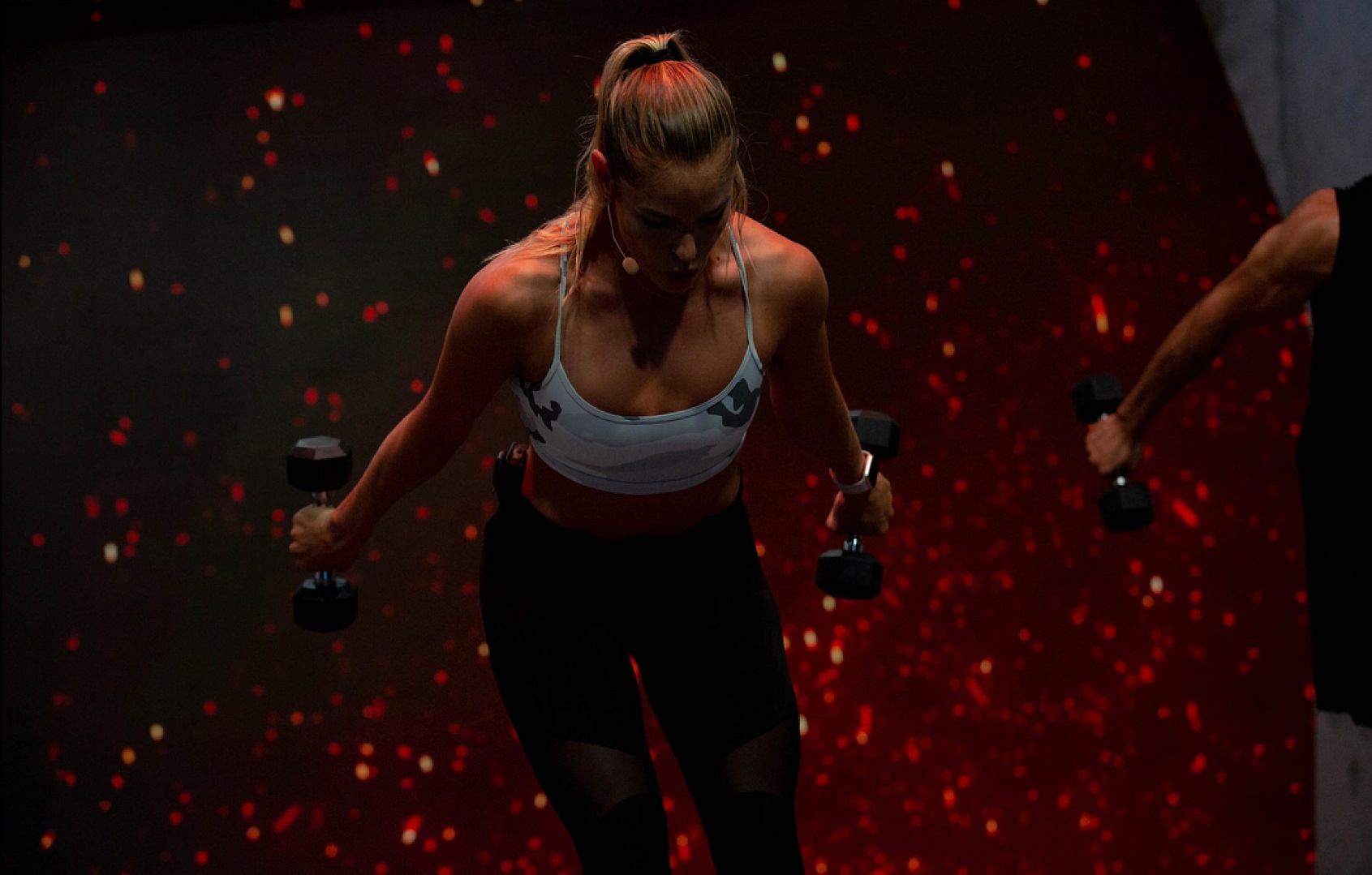 Simultaneously, the team at Character was expanding the brand direction into brand guides, photography direction and an interface design. They liked the concept of the cave and built on that idea for their photography direction, juxtaposing fitness models on dark backgrounds with tropical foliage.
Based on my extensive background overseeing video and photo direction, I was asked by my client to take inspiration from Character's initial styling and direct a photo and video shoot that would cover off on all the company's needs for brand photography, digital, advertising and social media, as well as several promo videos.
In collaboration with my production partner, Hillyard productions, I closely oversaw all pre-production, directed all talent day of and oversaw all post-production: casting, roster, budgets, fittings, shot lists, wardrobe styling, posing, HMU, retouching, video editing and animation.
Client: Victorious
Agencies: West of West, Character, Strange Loop Studios, Hillyard Productions
Producer: Kim Creighton
Models: Aime Kilgore, Nayriah Teshali, Anton Jeftha, and Gabrielle Cassie
Photographer: Brian Lowe
Stylist: Julie Matos
Set Designer: Alexandra Branger
MU: Mia Yang
Hair: Diane Dusting
Client: Victorious
Track: "Trap Pop" by Da
Video Editor: Lonnie Gallegos